11 September 2009 @ 12:32 pm
summary:
08 arashi icons (latest issue of
hanako
)
01 sho wallpaper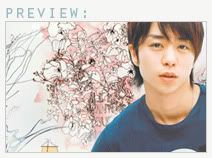 (
take me far away
Collapse
)
04 September 2009 @ 02:29 am
a mish mash of new and old icons, most of them were made before my computer's motherboard decided to melt last month.
summary:
12 arashi
02 okada junichi
02 jdrama (
kisarazu cat's eye, ryuusei no kizuna
)
preview:


(
sorry my bias is showing
Collapse
)
this time i'm sharing a couple of my personal wallpapers. the last few requests are not done yet but i promise i'll get them done asap, sorry for the delay.
summary:
2 wallpapers (ninomiya & nishikido, ninomiya & ohno)

(
more ninomiya love
Collapse
)